Galvanized Welded Wire Mesh
Galvanized Welded Wire Mesh is made of superior quality welded mesh, with flat even surface, firm structure, be used extensively in building, food, agriculture and so on.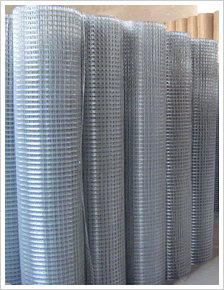 In the forms of rolls or panels, for construction, fences and other industrial uses.
It enjoys the feature of corrosion resistance compared with plain welded wire mesh. Mainly used as fencing panels or further fabricated into wire partitions, wire container panels, wire baskets, welded wire fences, poultry fences and other welded products.
Application:
In construction in the form of reinforcement brick mesh, welded bar gratings or wire mesh sandwich construction. A wire mesh sandwich construction which comprises an array of line wires, an array of cross wires overlying said array of line wires and a barrier material disposed between the array of line wires and the array of cross welded wires. The array of line wires is joined to said array of cross wires at the points of intersection and through the barrier material, thus securing the barrier material between the array of line wires and the array of cross wires.
Standard roll length: 30m;width: 0.5m to 1.8m
Special sizes welded wire mesh is available at request
Packing: Welded mesh is wrapped in waterproof paper in rolls. Then in cartons or in pallet.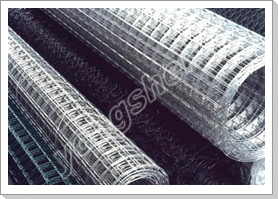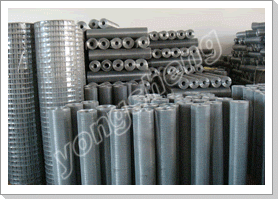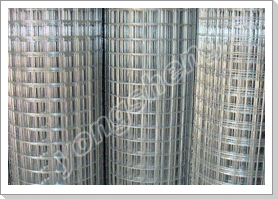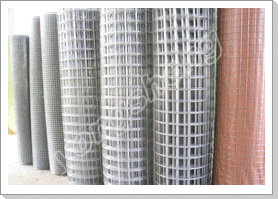 Specification List of Welded Wire Mesh
Opening
Wire Diameter<BWG>
In inch
In metric unit(mm)
1/4" x 1/4"
6.4mm x 6.4mm
22,23,24
3/8" x 3/8"
10.6mm x 10.6mm
19,20,21,22
1/2" x 1/2"
12.7mm x 12.7mm
16,17,18,19,20,21,22,23
5/8" x 5/8"
16mm x 16mm
18,19,20,21,
3/4" x 3/4"
19.1mm x 19.1mm
16,17,18,19,20,21

3/4" x 3/4"

19mm x 19mm

16,17,18,19,20,21

1" x 1"

25.4mm x 25.4mm

15,16,17,18,19,20

1" x 1/2"
25.4mm x 12.7mm
16,17,18,19,20,21
1-1/2" x 1-1/2"
38mm x 38mm
14,15,16,17,18,19
1" x 2"
25.4mm x 50.8mm
14,15,16
2" x 2"
50.8mm x 50.8mm
12,13,14,15,16
2" x 3"
50mm x 75mm
14,13,16
3" x 3"
75mm x 75mm
12,13,14,15,16
2" x 4"
50mm x 100mm
13,14
4" x 4"
100mm x 100mm
13,14